Specials going on Right Now. Visit us Here for more Information and a Free SAG Tip
Up Date: All classes are currently going through a makeover. We have already begun production. However all classes posted here will have the same information. The new classes will have improved audio and video.

This sample module illustrates the Certified SAG class format. It is designed to help you understand why it is important to have trained SAG driver on your routes. If you are a Ride Director for an Organization or Club, contact [email protected] for bulk pricing, to train your staff and volunteers. Even skilled SAG drivers, Bike Shop employees and avid cyclists can make critical errors thinking they are doing something safe when actually they are putting cyclists and others in danger.
Your Instructor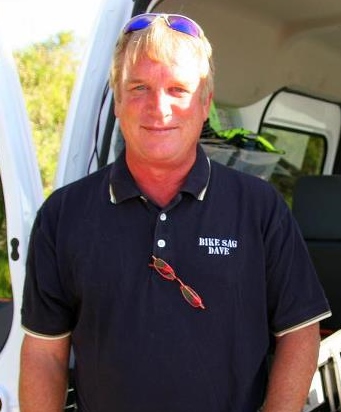 Dave Lancaster is the founder of Bike SAG, a professional SAG Wagon Service. Since 2010, "Bike SAG Dave" has supported over 1,000 days of cycling events throughout the USA. For over twelve years prior to formalizing Bike SAG, Dave volunteered as a SAG driver at local charity cycling events. He also managed bike shops. Dave is eager to share his experience, with the goal of making cycling events safer and beneficial for everyone.
Course Curriculum
First Section
Available in days
days after you enroll
Frequently Asked Questions
I'm an experienced SAG driver, why do I need to take a class?
Without the proper training; many experienced SAG Drivers, Avid Cyclists and Bike Shop Employees can make critical errors putting others at risk. What we think is safe may actually be just the opposite. If you have been performing a practice one way for years and nothing has happened, doesn't mean it's safe. It only takes that one rare moment for it to go all wrong. After all you may learn a trick or two on making your duties easier and more efficient. .
As an Event Director, will these classes help lower our insurance?
We are in contact with Insurance Companies and working on this. We will keep you informed as we make progress.
After taking any of the classes will I become Certified?
We can verify that you have completed the classes that you enrolled in. Only after a cleared background checks and meeting our qualification, then we will consider you as a Certified SAG®.
Thank you for taking your time to review how the classes are structed. I hope that you have learned something here. Ride Directors I hope you will consider how important it is to have trained SAG Driver for your next event.
To find out more about our training programs or gear please visit the links below.
Certified SAG Training (Ride Directors Please go to Bike SAG for Bulk pricing for training Staff and Volunteers)
Bike SAG Info from Find A SAG to our products and our event colander.
Gear For the G in SAG. Products to help make events Safer and more Efficient, with rentals.
Find A SAG Looking for a Professional Certified SAG Driver?
Join our Team Looking for a fun part time income?